COVID-19 and Funerals: Adapting to Changing Norms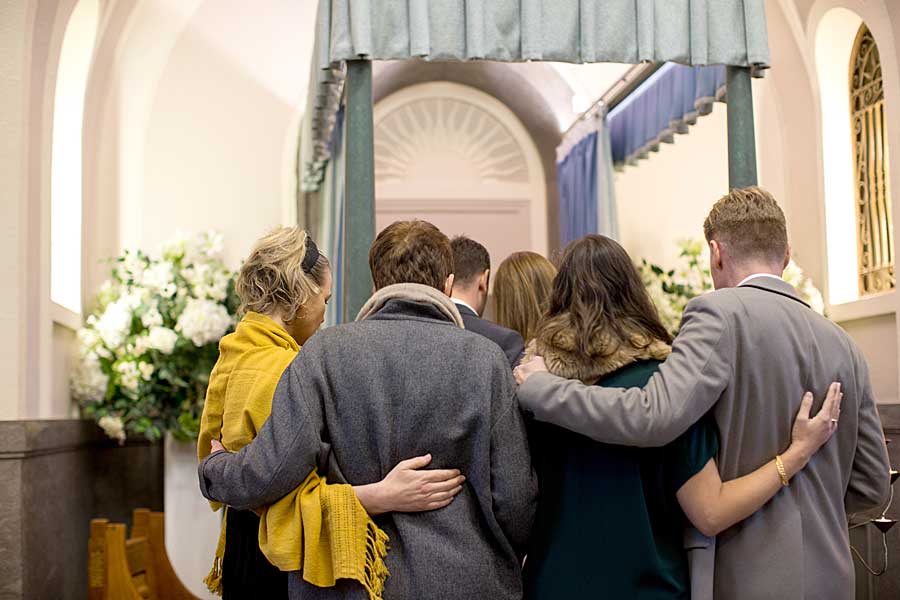 The global COVID-19 pandemic has profoundly affected various aspects of our lives, including funeral traditions. Across the world, funeral practices have been forced to adapt to ensure the safety and comfort of mourners while adhering to social distancing guidelines. This article explores the impact of COVID-19 on funeral traditions, the ways in which funeral practices have been adapted, and the rise of virtual funerals in the era of social distancing.
Understanding the Impact of COVID-19 on Funeral Traditions
COVID-19 has brought significant changes to funeral traditions worldwide. Traditionally, funerals serve as a way for family and friends to come together to mourn, offer condolences, and support each other. However, the contagious nature of the virus has necessitated the implementation of strict social distancing measures, limiting physical contact and the number of attendees at funerals.
One of the most significant impacts of COVID-19 on funeral traditions is the restriction on the number of mourners allowed to attend. Many countries have enforced regulations that limit the number of individuals attending a funeral, often resulting in only immediate family members being permitted to attend. This limitation has been emotionally challenging for those mourning the loss of loved ones, as it prevents the typical support and comfort that larger gatherings provide.
Adapting Funeral Practices to Ensure Safety and Comfort
In response to the challenges presented by the pandemic, funeral practices have had to adapt to ensure the safety and comfort of mourners. Funeral homes and organizers have implemented various measures to comply with social distancing guidelines while still providing meaningful farewells. Some of these adaptations include arranging for smaller, private services, staggering visitation times, and requiring the use of face masks and hand sanitizers.
Additionally, funeral homes have started offering the option of live-streaming funeral services, allowing those unable to attend physically to participate virtually. This adaptation has not only facilitated the inclusion of more mourners but has also provided comfort to individuals who may be at higher risk or located far away. It has become increasingly common for relatives and friends to pay their respects remotely, attending the service through video conferencing platforms.
Embracing Technology: Virtual Funerals in the Era of Social Distancing
Virtual funerals have emerged as a significant trend during the COVID-19 pandemic. With the advancement of technology, mourners can now attend and participate in funeral services remotely. Virtual funeral services often include live-streamed eulogies, music, and prayers, allowing attendees to grieve and pay their respects from the safety of their own homes.
This innovative adaptation has not only provided a solution to the limitations imposed by the pandemic but has also given mourners the opportunity to honor their loved ones in a meaningful way. Virtual funerals have also allowed family and friends from different parts of the world to come together and share their memories and support each other during times of grief.
Vostro 15 3590 Laptop XPS 13 7390 Laptop Dell USBC Mobile Adapter DA300 Logitech C270 HD Webcam Zoom Security Concerns There have been new reports of livestreams on the Zoom platform being hacked the socalled Zoom Bombing Click here for an article with security tips for livestreams on ZoomThe outbreak has dramatically changed Americans lives and relationships over the past year We asked people to tell us about their experiences good and bad in living through this moment in history Pew Research Center has been asking survey questions over the past year about Americans views and reactions to the COVID19 pandemicFuneral religious customs are adapting to COVID19 COVID19 has disrupted everyday life changing how people socialize shop work and worship Health laws and pandemic restrictions can
make Through Walk Around Philadelphia Arts Humanities amp Social Sciences How have new social Norms emerged as COVID19 has spread In a study of nine countries researcher Cristina Bicchieri found that motivating people to modify behavior requires changing their expectations about the actions and thoughts of those who matter to themMarch 14 2022 Print Email Over the past two years the world has seen a shift in behaviors the economy medicine and beyond due to the COVID19 pandemic Experts from the University of Alabama at Birmingham discuss changes starting in March 2020 that will forever stamp and change our livesMay 20 Dr Theresa Tam and Dr Howard Njoo provide an update on COVID19 in Canada and take questions on monkeypox A funeral for Paula Lockhart was held in Kentville NS last week after
the In normal times relatives and friends would gather for days or weeks cooking side by side and consoling one another as part of the funeral proceedings But with COVID19 ravaging through the The COVID19 pandemic has accelerated the pace of change in health care leaving many physicians looking for new ways to balance efficiency and innovation in their quest to meet patients needs A new textbookpublished just before the pandemiclays out a conceptual model for developing adaptive expertise in clinical reasoning
The COVID-19 pandemic has presented numerous challenges for funeral traditions worldwide. However, funeral practices have quickly adapted to ensure the safety and comfort of mourners. From implementing social distancing measures during physical services to embracing technology and offering virtual funerals, the funeral industry has shown resilience and innovation during these uncertain times. Although the norms surrounding funerals have changed, these adaptations have provided solace and support to those grieving the loss of loved ones. As we continue to navigate this pandemic, it is essential to remember that even in times of crisis, human compassion and the need to honor and remember the departed remain constant.